Axial Impellers
MAP Series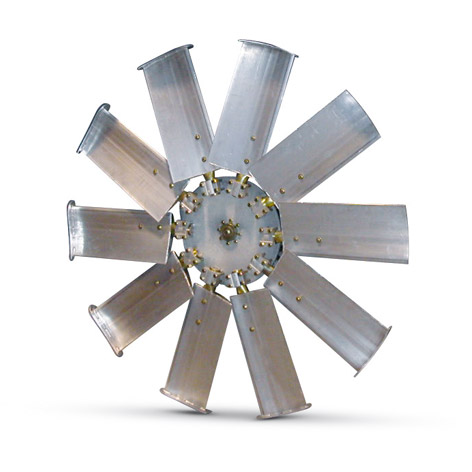 Comet Fans aluminum impellers come in 3 different construction types, aimed at satisfying numerous industrial applications. COMETFANS manufactures 8 different blade profiles, giving rise to one of the most extensive and efficient product ranges available on the market.
More than 200,000 blades of our MAP Series have been manufactured by Comet Fans and are now installed in over 70 countries worldwide with many in the most demanding service conditions.
MAP Series impellers have adjustable pitch blades.
Comet Fans developed its own aerofoil profile blades with the aid of wind tunnel testing. These profiles are designed to get high levels of efficiency at a range of speeds typically used in industrial applications.
Noise is kept to the minimum through precise profiling and a series of construction methods used to reduce turbulence.
By using COMET Fans selection software, it is possible to select the most advantageous combination of speed, number of blades and blade profile to obtain the best results in terms of fan duty, noise and power consumption.
Three different types of hub construction are available for the MAP Series (F, P, D), They are categorized as:
– small fans or ventilation units (F type), general ventilation and cooling systems (P type), heavy-duty or large equipment and systems (D type)
| Series | Blade Material | Hub Type | Blade Series | Diameters [mm] |
| --- | --- | --- | --- | --- |
| MAP | Alluminium | F | 12/1N | 350 ÷ 1.000 |
| MAP | Alluminium | P | 1N/2N/3N/31 | 500 ÷ 3.100 |
| MAP | Alluminium | D | 2N / 3N /4N / 8N / 31 / 51 | 1.000 ÷ 12.000 |