Centrifugal Fans
OR/COR/ORV Series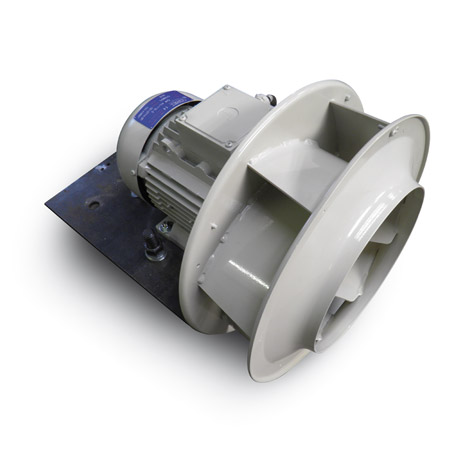 Ideal products for applications requiring a very compact, high-performance solution.
The compact dimension of the fan and the absence of a fixed direction of the airflow make these products very useful wherever high pressures must be generated in a small space and a 90° change of direction to the of airflow is not recommended. They are the optimal solution for forced ventilation or limited space requirements (like converter boxes, electrical cabinets, air-handling units).
ORV Series fans are fitted with a simplified housing arrangement to separate the motor from the flow generated by the fan (e.g. for applications with air temperature higher than 60°C).
Ready-to install with an innovative design, the COR Series features an extremely compact design, due to an exclusive fixing system used for the squirrel-cage electric motor.
The OR/COR/ORV are fitted with the same series of impellers used in the centrifugal CF series fans and are available in carbon steel, aluminium or stainless steel, with straight, curved or profiled blades.
Features:
impellers in carbon steel, electro-welded and epoxy-painted
dynamic balancing according to ISO1940, grade 2.5
3-phase motors, IP65, Insulation Class F or H, 50/60Hz, IEC60349, with specific winding impregnation for inverter-fed operation
| Series | Diameters [mm] | Features | Pressure | Power [kW] |
| --- | --- | --- | --- | --- |
| OR | 150 ÷ 500 | Open-Running Centrifugal (plug-fan) | Up to 3000 Pa | 0,18 ÷ 22 |
| COR | 200 ÷ 500 | Open-Running centrifugal (plug-fan) with fixation plate | Up to 2500 Pa | 0,37 ÷ 15 |
| ORV | 200 ÷ 500 | Centrifugal with square housing | Up to 3000 Pa | 0,55 ÷ 22 |
Applications:
traction converters
auxiliary converters
HVAC
transformers
filtering and de-dusting systems
cooling systems